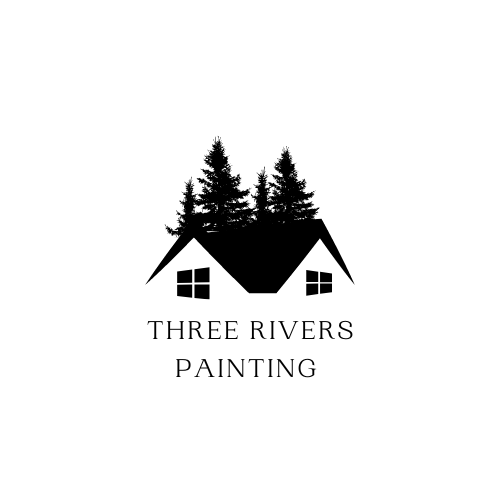 There are many steps Involved for interior painting and many variables such as the amount of trim, doors, walls or ceilings included to be painted.
Is it a full interior repaint or just walls and ceilings only?
The first step with Three Rivers Painting is to ensure all furniture and wall fixtures are removed and clear for adequate room for painting and prep work.
If it is a full interior repaint, the first step will be enclosing the entire room by drop clothes, plastic and or paper masking and tape to ensure all furniture, floor space or other areas like tile walls for bathrooms do not get any paint splatter.
Containment of the project and room is key to ensure a clean job site once finished with zero splatter or overspray.
Depending on the type of project, spraying or brushing and rolling will differ in the process of containment and setup.
By moving furniture and removing wall fixtures in advance as a homeowner or business, the labor would be adjusted accordingly which allows three rivers painting to get to application of coatings on your surfaces faster.
Drywall repair such as patching, retexturing or caulking trim to walls can add labor, but will ensure the finished painting project is a high quality finish.
Some folks would prefer to have just a quick freshened update of wall color with no ceilings, trim, or drywall repair which is also an option from a value based approach for homeowners.
We offer various options in scope of work which can adjust the labor gauge up or down to meet each person or businesses individual needs and end goal.
For a full interior, generally Three Rivers Painting will paint the ceilings first, trim 2nd and lastly walls, with any remaining touch ups to be completed lastly as needed and prior to clean up.
If your trim is wood with a varnish or clear coating, and you'd like to keep the natural character of wood, in these cases, appropriately masking off with paper, plastic and tape would ensure no paint splatter would be left on the surface post completion.
By having an empty room or space to work, Three Rivers Painting can often move more efficiently which ultimately leads to your project completed in a more timely manner.
Every interior painting project differs in the scope of work and end goal for a finished project but we hope this gives you a general idea on the process in place for your next project Three Rivers Painting can help with.
We hope this helps and until next time.
Scott,
Owner - Three Rivers Painting